The Vet's turf is possibly more career-threatening than any hit by a member of the Eagles' secondary.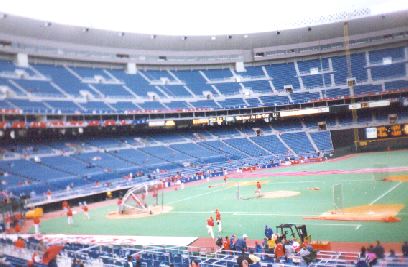 PHOTO CAPTION: Veterans Stadium in 1997, before it was converted from Astroturf to NeXturf.
By ROY BELLAMY
The Vet's been up since the earth's been formed. That's a little overstating it but really, it's been killer on athletes. I say it's the worst stadium for football, baseball, and it wouldn't do any good for hockey either. The last known offense was a turf problem that cancelled play between the Ravens and the Eagles. I don't know what it was, but it was related to baseball and the section at second base. Before they installed the NeXturf, no relation to Nextel, it was AstroTurf. Yup, that very word made many football and baseball players cry.

The turf seemed like rubber to fielders, made the ball bounce over their heads like one of those little rubber balls and the paddle you used to play with when you were a kid.

All I had as a kid was a glove, bat, and ball and look at me now. OK, don't look at me, look at what all stadiums like Veterans Stadium did to careers. The Astrodome, Busch Stadium (before grass was planted), Giants Stadium and Cinergy Field (Riverfront Stadium), Three Rivers, Olympic Stadium, and SkyDome. What can I say, I'm a surveyor of playing fields. Turf toe is the word, and I wouldn't want to be running and falling on that.

Trust me, it's the equal to road rash. Maybe the Vet should change to grass, that seems to be hot these days. At least Brian "The Brain" Billick wouldn't be feeling the playing surface with penny loafers. And some Phillies fans I know can't wait till 2004.