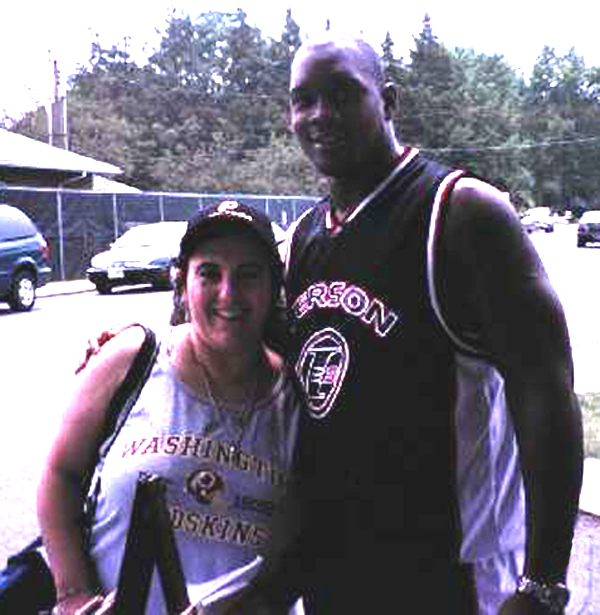 Retro Redskins Rulzs owner Mozelle Meyers, with her
team's first round draft pick, running back Stephen Davis.
Click here to access the Yahoo! Fantasy football website
Updated for Sunday, August 17
There will be no scheduled chats tonight - however, feel free to use the chat room for unscheduled chats at any time. You can enter the chat room here. If you have trouble accessing the chat room through the first link, use this alternate link.


Remember to vote in the Fantasy Football poll below right now!


When there's no one in the chat rooms ...

Let your opinions be heard on the message boards. Feel free to share your thoughts on fantasy sports here. Click here to enter
"Confessions of a Sports Fan"

"Confessions of a Sports Fan," a series of interviews by Roy Bellamy of regular people who love sports, has begun. The first interview subject: Mozelle Meyers. Click here to enter
A new sports site!

Jason Shannon (jamish260 from the old CBS SportsLine chat rooms, and owner of the "Bone Crushing Bills") has created a new web site called "Sports Central," which focuses mainly on his favorite team, the Buffalo Bills. Click here to enter


Fantasy Football Links

Official National Football League website Fantasy Football Index Home Page Fantasy Football Insights Fantasy Football Today Fantasy Football Toolbox NFL Hotwire at KFFL Tuff Sports Fantasy Football Index

Draft Order


1. Craig, Deltaman
2. Roy, Daffy's D-Backs
3. Jason (U.S.), Bone Crushing Bills
4. Steph, Steph Infections
5. Jim, CheeseWiz
6. Kenny, The Mad Dawgs
7. Jared, Pulverizers
8. Sam, Clancy's Toads
9. Graci, Stuck in Neutral
10. Jay, Spock's Burritos
11. Mozelle, Retro Redskins Rulzs
12. Jason (U.K.), Max Q

This will be the draft order for all odd-numbered rounds; just reverse the order
for all even-numbered rounds.

Interactive Poll




Website Counter



Number of visitors to this website since July 18, 2002 (the date this counter was installed).

Electronic Mail

Send questions and comments to jbyrd002@excite.com.