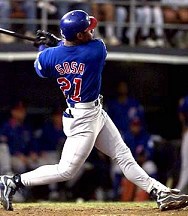 Chicago Cubs outfielder Sammy Sosa.
Updated for Saturday, July 20, 2002
Content on this site will be updated in several weeks.


Scheduled chats are cancelled for tonight, but feel free to use the chat rooms for unscheduled chats at any time. You can enter the chat room here. If you have trouble accessing the chat room through the first link, use this alternate link.


Remember to vote in the Sports Chat Poll below right now!

When there's no one in the chat rooms ...

Let your sports opinions be heard on the message boards. Feel free to share your thoughts on the NFL, the NBA, the NHL, MLB, or any other sport ... Enter message board here
A brand new sports site!

Jason Shannon (jamish260 from the old CBS SportsLine chat rooms) has created a new web site called "Sports Central," which focuses mainly on his favorite team, the Buffalo Bills. Enter site here